Camping was once the outdoor activity of the family only during the summer months. However, gone are the days of such thought? People are planning to go on a trip even during the winter months these days.
Camping during winters is something that you should think about thoroughly before planning a trip. This includes cooking as well. If you are not sure about what to cook on your camping trip during winters, then you can just visit www.easycampfirerecipes.com. You can find many recipes for you on this webpage as per your requirement.
1.    Starting the Day
Waking up during the cold hours of the morning is difficult, and if you wake up late, then you will surely miss the adventures of the day. A warm breakfast followed by a hot beverage will surely make you get ready for the following day.
2.    Hot Granola and Tea
All you need are a water heater, tea bags, granola, milk powder, sweetener, and hot water. You can easily prepare a cup of tea and some breakfast for the day.
You can find many varieties in the case of tea to wake your senses in cold climatic conditions. you can go with black tea, peppermint tea, orange spiced tea, cocoa mixed tea, apple cider mixed tea or even lemon drink mixed tea. Choose the right one for you.
3.    Dinner Options
The most preferred dinner options in the winter camping trips are soups of many kinds. You will find many options in the case of soups and include veggies soup, a starchy soup made of potatoes and pasta, meat soup, simple base soup, fat soup, and so on. All you have to do is purchase the easy to prepare soup powder and put them into the boiling water of the required quantity. You can use the toppings such as parsley, onion, cheese, etc.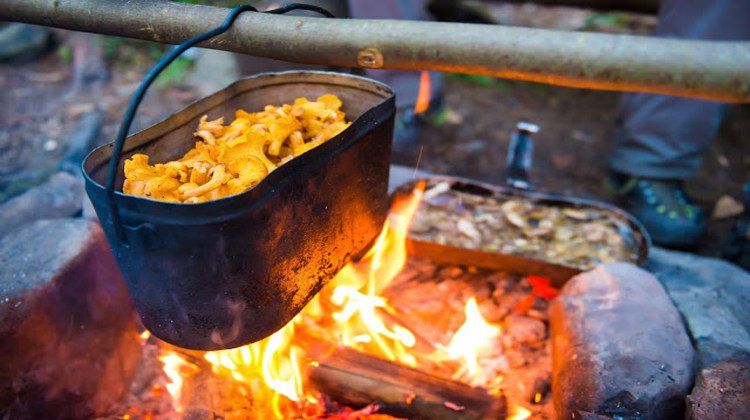 4.       Oat Scones
All you need is 1/4th cup of cooking oil and brown or honey sugar, ½ cup margarine, 1½ cups of baking powder, water, 2 cups oatmeal, and salt as required. Mix the ingredients till they all hold together and keep stirring till the mixture becomes a little thick. Then transfer the mixture into the baking mold and bake for 20 to 25 minutes. You can use Dutch Oven for baking the camping food.
5.       Easy to Prepare Tips
If you are not into cooking or baking the food while on a camping trip during winters, then you can go with the easy to prepare food items such as sandwiches with honey, cheese, deli meat, PB&J, Nutella, etc. You can prepare the sandwiches at home and wrap them neatly in aluminum foil and carry them to your camping trips.
Some of the other options, in this case, include crackers, fat-rich snacks, fruitcakes, dried meat, etc., to help you in your camping.
People normally steer clear of cooking during camping trips because the ground will be damp or frozen and starting a fire is a very difficult task. Hence, many campers during winters prefer taking freeze-dried and canned food items since the addition of boiling water will do the magic.